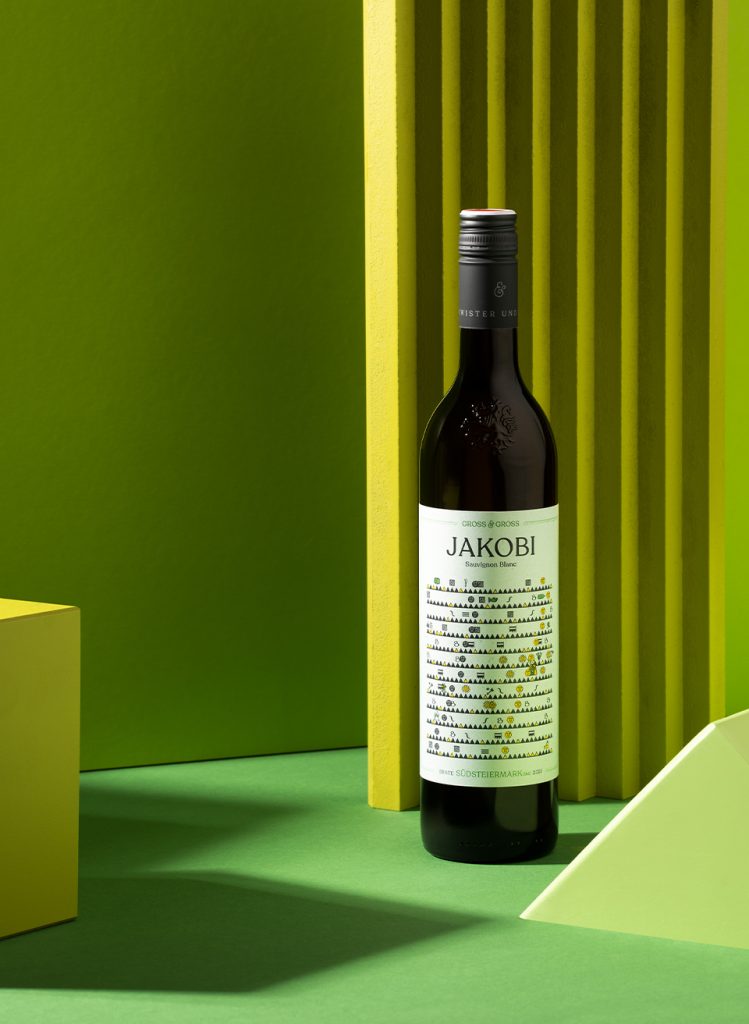 Some hear it on the grapevine – we write about it. The Jakobi bottle label tells of the vintage that shaped it and the special features which make for its taste (elegant and spicy), using both our own symbols from viticulture as well as from the Old Farmer's Almanac – sun, moon and harvest, to only name a few. In the past, those were regarded as formative events that could determine not just harvest itself, but an entire life. For us, Jakobi is always a story with a feelgood ending, one way or the other.
Pretty symbolic. The Old Farmer's Almanac is considered Styrian cultural heritage. As is Sauvignon Blanc, at least in our opinion.
It therefore seems quite opportune that we have been endorsed to use symbols from the Old Farmer's Almanac for the Jakobi label. They depict frost, heat, and everything else of importance which has happened weatherwise. As even the Old Farmer's Almanac lacks the right words, or rather symbols, on rare occasions, we have additionally created our own viticulture symbols to help us tell the whole story. Year in, year out – or rather: vintage – this provides a picture of a particular wine: Jakobi.
In fact, the Old Farmer's Almanac has a great history of its own. Originally created in the 18th century for the illiterate part of the population, it was also known as "Mandlkalender", with "Mandl" being the regional dialect word for "figure" as it depicts half-length figures of male and female saints. In addition to the weather, this calendar also interpreted moon phases, name days and holidays, and was therefore used by people as a reference point as to what to expect in the year ahead. Today, the symbols on the bottle label of our Jakobi do not point to the future, but to the past. One could also say, for Jakobi, last year's weather is never the snows of yesteryears or simply water under the bridge. Jakobi bears the name of the patron saint of the weather for a reason.
Die Symbole des
Bauernkalenders im Überblick
Abstich (Abziehen von der Hefe)
Karfreitag& Land-arbeiterfeiertag
Neuauspflanzung Rebstöcke
Weichwerden
der Beeren
How a Sauvignon Blanc became Jakobi
1.
The Old Farmer's Almanac was a fixed component in our granny's kitchen. For the little Gross children, it was all part of the fun to see whose name day it was or whether the weather really turned out as the symbols had predicted it to be. Just like viticulture. And naturally, one thing led to the other.
2.
The children grew older and, at some point, wanted to make their own wine – one that was actually recognisable as such. Then the figure calendar came into their mind – and an old woodcarving into their possession. The latter showed a precursor of the Old Farmer's Almanac and represented an entire calendar year on a rectangular piece of wood. Perfect for a wine label! Since then, every new Jakobi vintage has had its own label with the appropriate symbols for the respective year.
3.
Now all that was still needed was a name. What appellation would do the region-typical Sauvignon Blanc justice? Maybe something that would match the label? Something with sun or rain or … heavens! Its name must be Jakobi! Jakobus, known as Saint James the Great in English, is the patron saint of the weather and quite a star in South Styria.
Auf dem Etikett von Jakobi sind die Besonderheiten des jüngsten Jahrgangs verewigt – einige Symbole aus dem Weinbau und Zeichen aus dem alten Bauernkalender helfen dabei.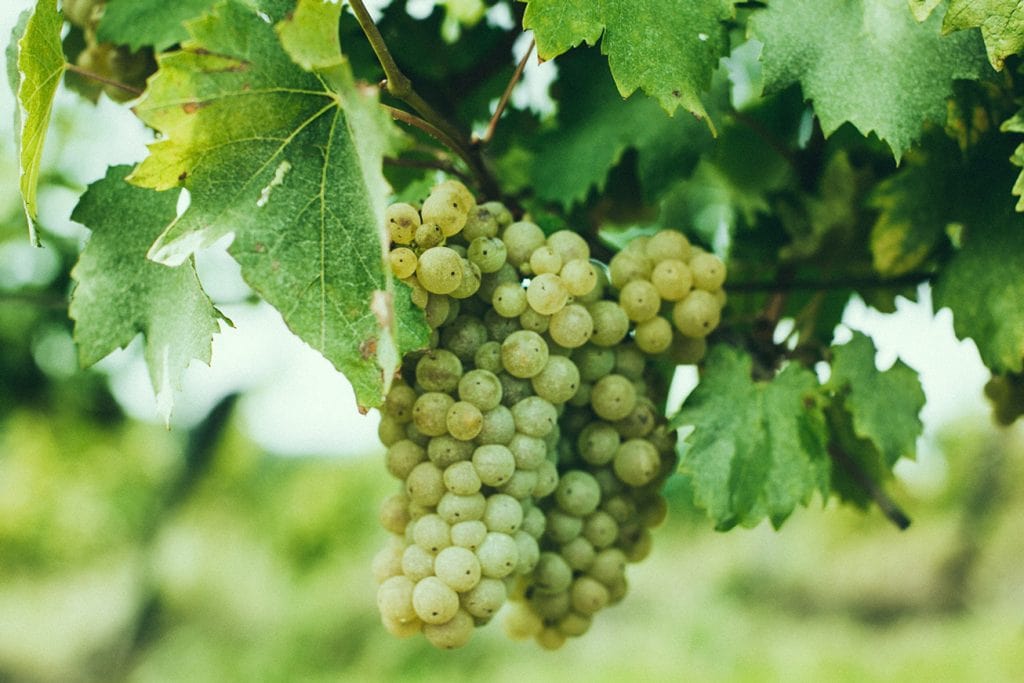 Jakobi ist ein echter Südsteirer und ein Sauvignon Blanc, wie er uns gefällt.
Jakobi ist ein Sauvignon Blanc – die wohl wichtigste Rebsorte der Südsteiermark. Wir trinken ihn besonders gerne, wenn wir einen gemütlichen Abend mit Freunden verbringen. Sowohl vor als auch zum Essen macht Jakobi eine gute Figur.
Jakobi passt perfekt zur österreichischen Wirtshausküche. Zu mit Käse und Kräutern gefüllter Hühnerbrust, Gemüserisotto oder Fischsuppe. Er eignet sich aber auch als Aperitif – in großer Runde oder zu zweit. Oder wenn man sich einfach selbst etwas gönnen möchte.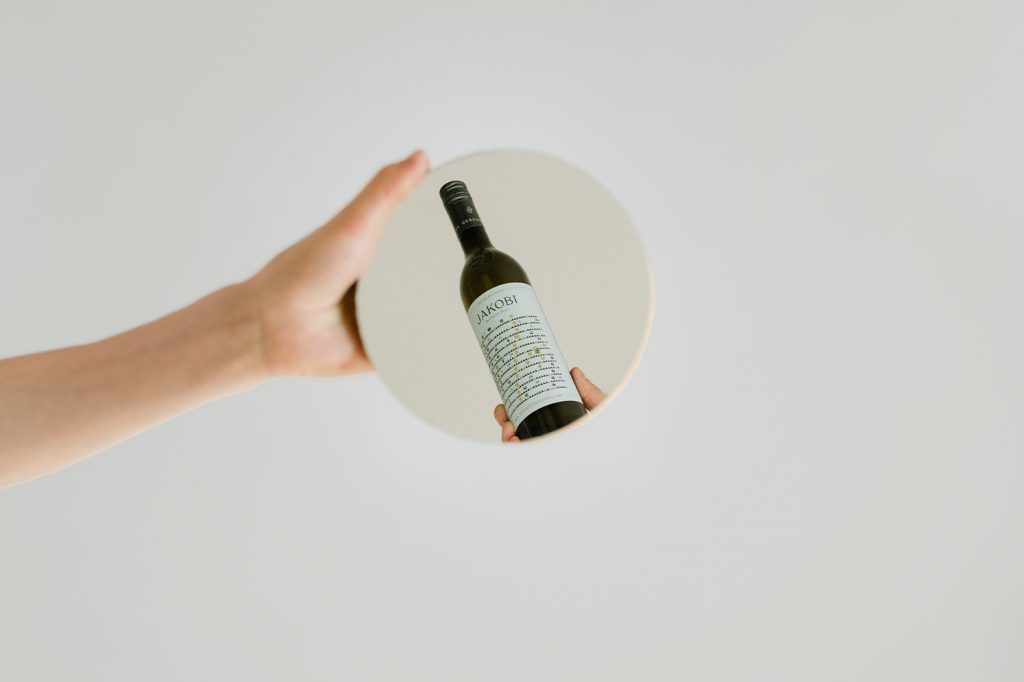 For us
Jakobi is every day
There is, in fact, an official holiday when Ratsch, and in fact the entire region, celebrates Saint James, the patron saint of the weather. Every year on July 25th, klopotecs are set up in Jakobi's honour – and to keep the birds away from the ripening grapes. Klopotecs are wooden windmills typical of South Styria and Štajerska Slovenija. Their rhythmic rattle protects the grapes until "Martini" on November 11th. A breeze to accomplish.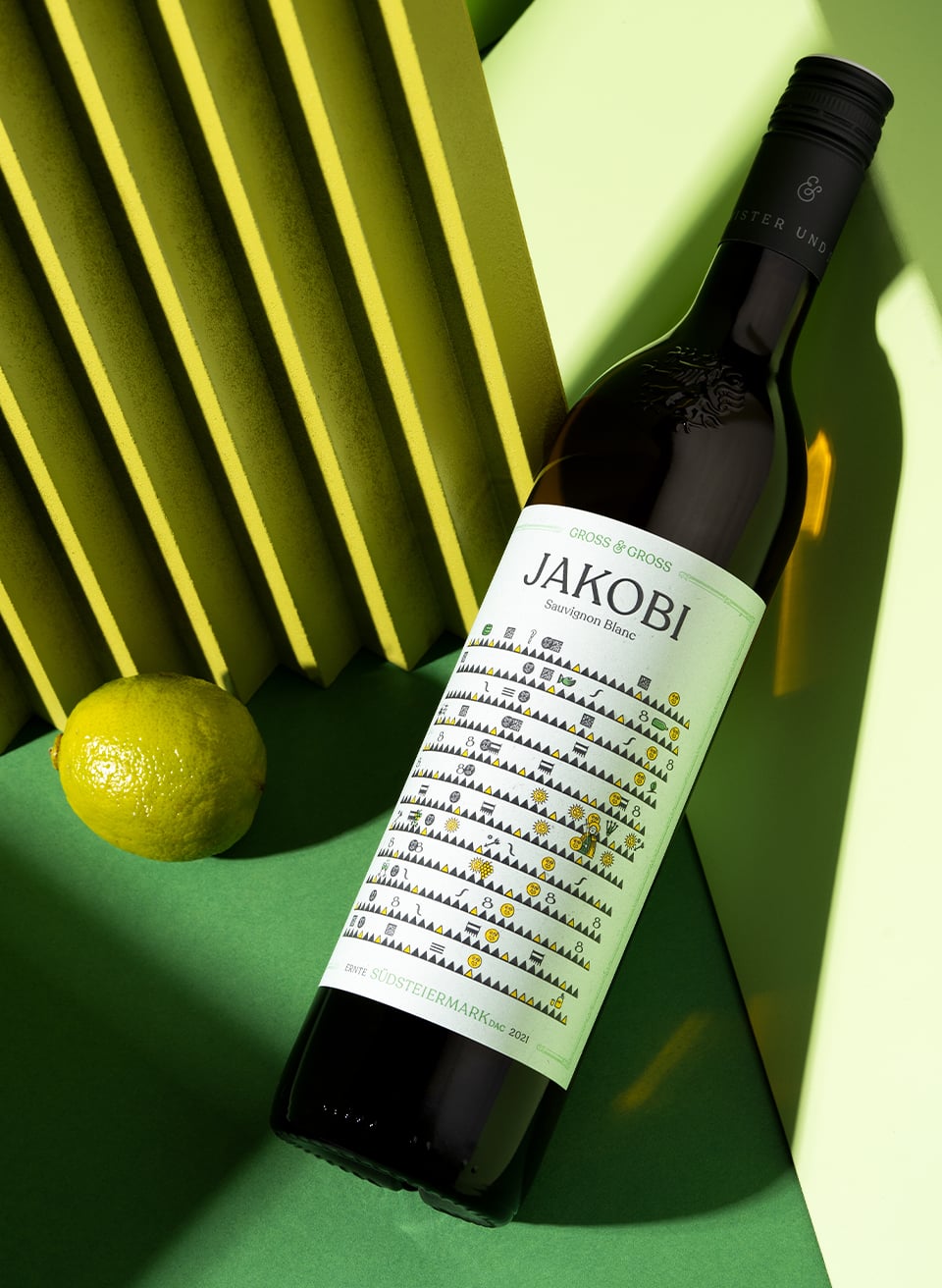 Würzig-elegant — und das jahrwein, jahraus.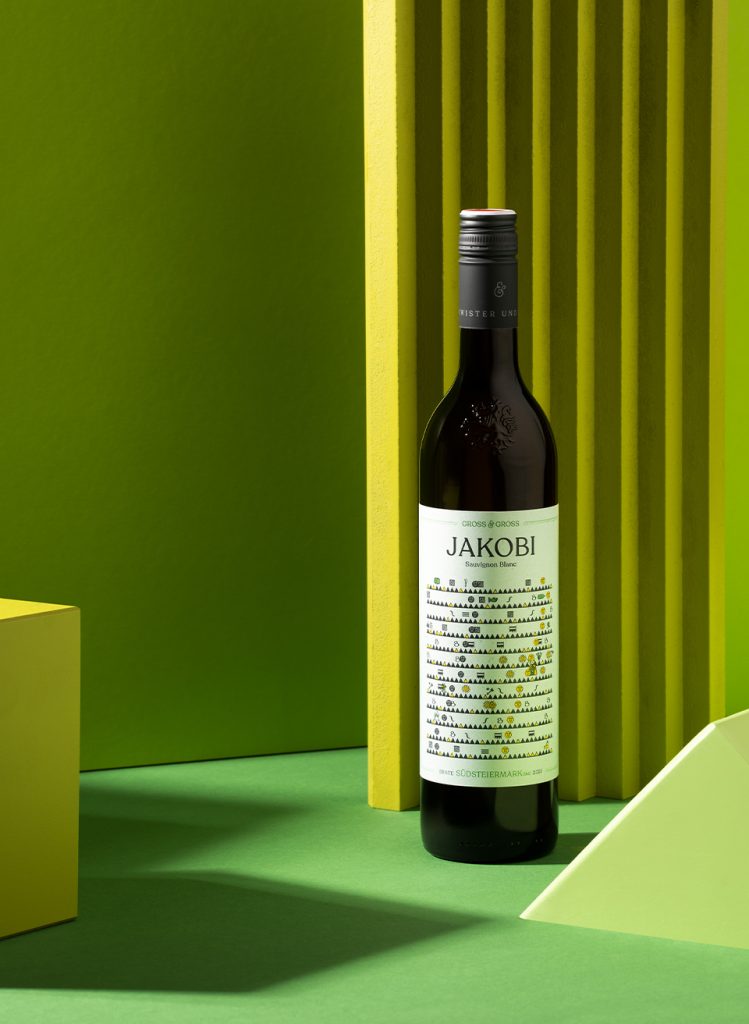 Jakobi ist ein echter Südsteirer. Ein Sauvignon Blanc, wie es ihn nur hier gibt. Würzigelegant. Und das jahrwein, jahraus.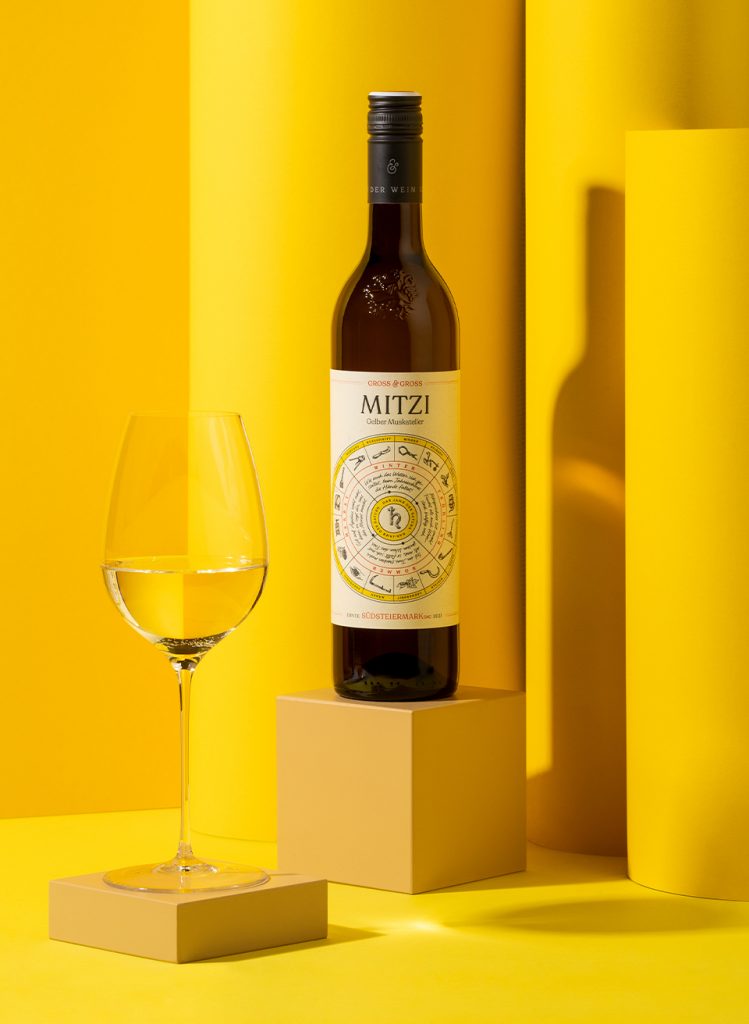 Mitzi ist unser leichtfüßiger Gelber Muskateller, der für die südsteirische Lebensfreude steht.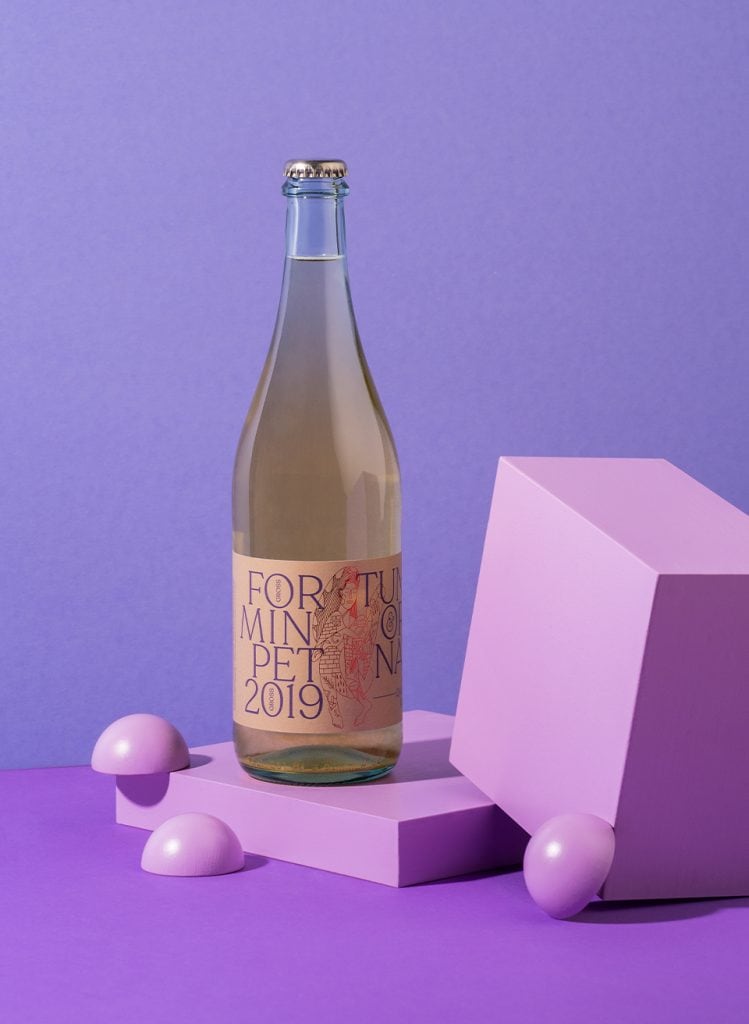 Wer sich ein Glas unseres Pet Nat schnappt, hat stets ein glückliches Händchen. Weil man immer etwas zum Anstoßen hat.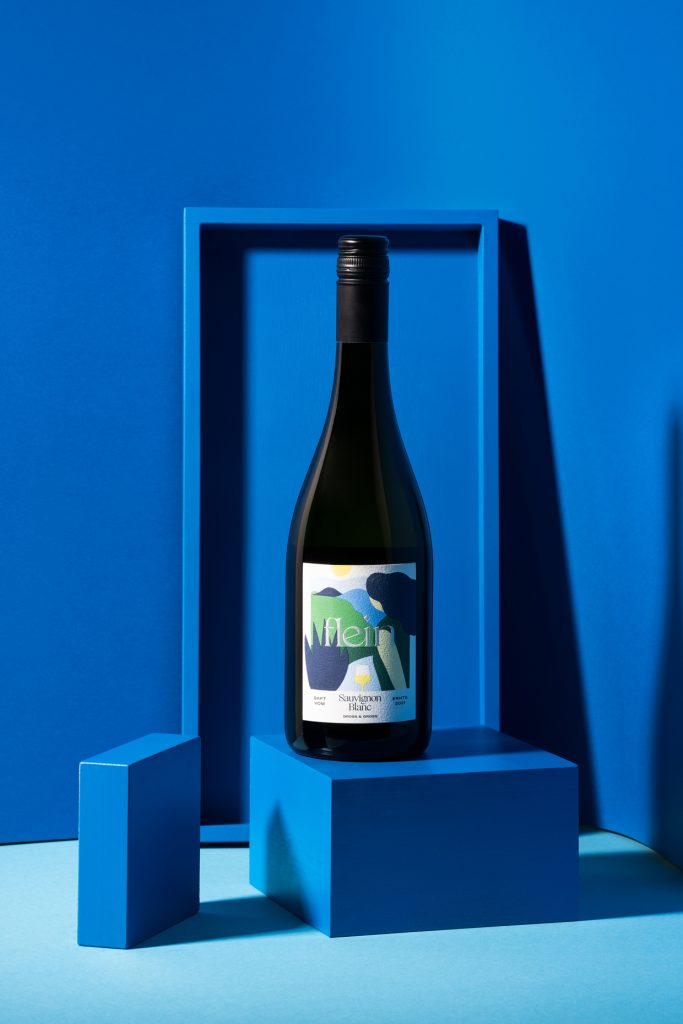 Flein ist sortenreiner Traubensaft höchster Güte. Das, oder besser die Rebsorte, schmeckt man auch.
Euch interessiert, was bei uns passiert? Dann gleich unseren Newsletter abonnieren und Teil des Gross & Gross Freundeskreises werden. So erfahrt ihr immer als erstes, wenn's was Neues gibt. Den jüngsten Jahrgang, zum Beispiel.