A little piece of happiness, sparkling and animating, produced using original methods of sparkling winemaking.
Fortuna Minor, the Pet Nat by Gross & Gross is here to celebrate life. This sparkling wine is our "lesser fortune" to accompany the small, big and unforgettable moments of happiness in life: joyful moments of any kind, be it a romantic evening for two, family celebrations or fizzy party nights.
Pet Nat is short for pétillant naturel (French for naturally bubbling) to which no yeast or sugar is added. This sparkling wine owes its animating fizz to one single fermentation that begins in the must and finishes in the bottle.

Fortuna Minor is a naturally sparkling wine for any occasion. Fresh, aromatic, accessible and sheer drinking pleasure. Cheers!
O Fortuna, bring me a little piece of sparkling happiness!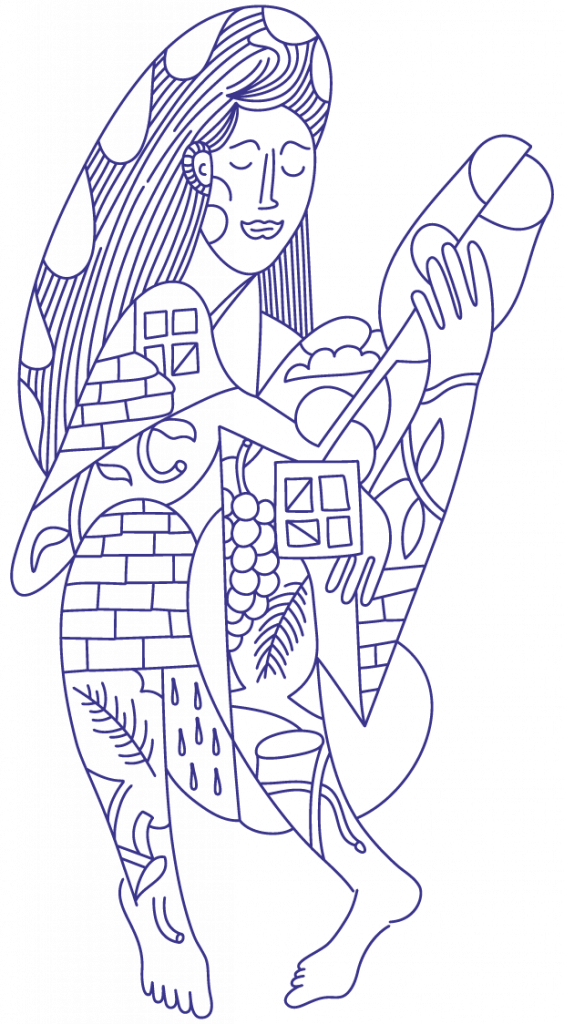 Fortuna Minor means Lesser Fortune and is synonymous of the goddess Venus. Under her sign Gross & Gross was founded in 2018.
The goddess of
Lesser Fortune
Fortuna Minor is the fresh and aromatic, easy-to-drink sparkling wine that was still missing in the Gross&Gross range of easy-going wines. A fizz just for fun, produced as a pétillant naturel or Pet Nat. The name Fortuna Minor stands for a little bit of happiness that can be celebrated every day and which accompanies happy moments much like a smile, a thrown kiss or a twinkle of the eye.
Fortuna is the deity of fortune. Fortuna Minor means a lesser piece of luck or happiness. Because the greater luck means so well with us, because we are blessed with a great togetherness in the family, happy children and fertile land, we are also thankful for every little piece of luck. For the beauty of everyday life, such as a sunset after work done, a barbecue at weekends or a nice chat with colleagues. Fortuna Minor is ideal for a toast to it all!
Fortuna Minor also stands for the fruitful cooperation between us four. Gross&Gross was founded in 2018. The Hundred Years Calendar (see Mitzi) allocates this year to Venus, the goddess of fertility, and describes herself as Fortuna Minor. May she continue to bring us luck, and to all of you!
Fortuna Minor is our pétillant naturel, or Pet Nat, the primal form of dry pearl or sparkling wine. Its production relies on natural fermentation.
Unlike the méthode traditionelle, the production of Pet Nat does without the addition of yeast or sugar. Fermentation takes place in the bottle and no liqueur de tirage is added. Pétillant naturel (naturally bubbling or sparkling) currently enjoys a revival in France and in various other wine regions of the world.
Back to the roots of sparkling winemaking
Completely ripe grapes with a clear acidity are the basis for excellence in sparkling wine. The crucial difference between the classical méthode champenoise and Pet Nat is that the juice is bottle before fermentation is completely finished. To lend the young wine its structure, 20 – 30 per cent of the grapes picked for Fortuna Minor are left to ferment on the must. The rest are pressed straight away and immediately fermented in the cellar. The two portions are then blended during the fermentation process and bottled before the natural sugar in the grapes has completely turned into alcohol – without adding yeast or sugar! Firmly corked, fermentation ends as soon as the sugar has been completely converted. The natural CO2 resulting from this process cannot leave the bottle and produces a wonderful sparkle.
After ca. 5 months, we pop the corks – but only to disgorge the Pet Nat. The bottles are now stood on their heads for a week to ensure that the natural yeast from the process gathers in the neck. When opened, the pressure suffices to shoot out the yeast prop. The content is then topped up with Fortuna Minor from other bottles and the bottle is capped. And there it is ready to drink, our sparkling wine fortune!
Naturally sparkling wine experience for bigger or smaller events
Fortuna Minor always goes down well. Our Pet Nat is an easy-to-drink sparkling wine that we love for both summer parties and barbecues just as much as an aperitif and to accompany a meal in a three-star restaurant. The haze and deposit in the bottle are signs of its freshness and originality.
A bottle of Fortuna Minor in the fridge is the best answer to surprise visiting friends. And the Pet Nat can turn many a tranquil evening on the couch into a bubbling house party. The bottle with the lovely label is the ideal thank you for an invitation or a small gift. Fortuna Minor is also great for a toast on successfully finished projects, lucky events or the bliss of life as such.
Fortuna Minor is the ideal party drink, aperitif and – why not? – a companion for lighter dishes
A natural sparkling wine experience (Pet Nat) for any occasion, low in alcohol (12%). Best enjoyed in the first two years.
All Gross & Gross wines are available at ex-winery prices from the Online-Shop of Weingut Gross. Free shipping within Austria for orders reaching, or exceeding, a total order value of 99 euros.
You may sample and purchase Gross&Gross wines at Weingut Gross in Ratsch during ex-winery opening hours. Enjoy the wonderful view!